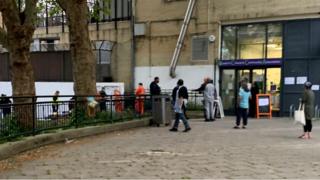 A man was taken to hospital after being shot in north London.
Metropolitan Police officers were called to the Queens Crescent and Prince of Wales Road area of Camden at just before 19:40 BST on Monday.
An eyewitness said she heard "several gunshots" in the area.
The condition of the man, who is in his 30s, is not life-threatening, a Met spokesman said, confirming an investigation was under way.
Foyezur Miah who runs of the Queen's Crescent Community Association (QCCA), said two of his volunteers were serving Iftar meal packages at about 19:30 when the victim staggered into the centre with bleeding to his upper thigh area.
Mr Miah said it was a frightening situation for his volunteers who acted very quickly to call 999.
The centre has a bleed kit which it purchased following the nearby death of Calvin Bungisa in Gospel Oak, a year ago.
People who came to the centre following the gunshots applied the bandages before the ambulance an police arrived a few minutes later.
"I'm quite taken aback about the situation. Despite the coronavirus pandemic there are still people out there still set in their ways to inflict harm onto others," Mr Miah added.
Despite the shooting, Mr Miah said they would resume serving meals to the whole community.
"We're going to make sure that everyone who wants our hot meals gets them," he said.
The community centre has been serving needy and vulnerable people locally for 20 years.
emergency glazing West Brompton
April 28, 2020
Categories: